Wedding ring basics
Every wedding is different, unique vows bit every wedding has one thing in common. The exchange of wedding rings. What kind of wedding ring do you want? Here are a couple of basics. These basics are designs, width, shapes, weights and sizes. These factors are needed for a lifelong enjoyment of your wedding ring.
Wedding rings vary from traditional plain gold bands to completely designed, engraved and covered with gems. Please take your time to decide your wedding ring. No one is the same, so your wedding ring is your choice and not for someone else.
Metals
It is important to choose your kind of metal. Every kind of metal has different properties, one is harder and more durable than the other. Yellow and white gold are the most traditional metals. More and more people choose platinum and titanium as their metal of choice. If you want to wear your wedding and engagement ring together, than you might consider which metals fit together. When choosing metals, choose what look you like but also your occupation. If you work with your hands then you may want a wedding ring with more durability. If you have to clean your hands constantly because you work in healthcare than you may want a ring that is easy to clean.
Shapes
Next up is the shape. The three main shapes are Court shaped, D shaped and shaped. But what is the difference. Take a look at the picture below, for a basic idea of shapes.
Court shaped is the classic shape, slightly rounded on both sides. This ring is plain and comfortable, and available in various widths. As you can see in the picture, the court shaped ring is the left ring in the bottom row.
D shaped means a flat inside and a rounded outside, making the shape look like a D. An example is the third ring from the left in the top row.
The obscure shaped rings. If you want one of these shapes, you narrow your choice dramatically. We will discuss a couple. Flat Court which is basically a reversed D shape, so flat on top and slightly rounded on the inside. Double comfort which is flat on both sides. Another shape is halo, a completely round shape. The Concave shape is usually flat on the inside and hollowed out on the outside.
For all of these shapes apply the same principles. Are you traditional or modern, and what is the most comfortable shape.
Weights
Usually men wear more heavy wedding rings than women. Most rings can be purchased in three weights: Light weight, Heavy weight and Extra Heavy Weight. If you have the opportunity try more weights of the same ring. This is because different weights have different feels. You may be surprised by the difference it makes.
Widths
The width of a wedding ring can differ from 2 to 8 mm. Smaller wedding rings are more elegant, whereas bigger wedding rings have a rough appearance. You can show your character in the width of your wedding ring.
Diamonds
In addition to plain rings, if you want diamonds in your wedding ring than your wedding ring becomes more flashy. This also gives way to much more wedding designs. The same applies for other gems and stones you may want in your wedding ring.
Engraving
If your wedding ring is not yet personal enough, then you should engrave the wedding ring. Note: Not all wedding rings can be engraved. Engraving takes up a lot of time, so if you want your ring engraved look at the delivery time. This is typically one month.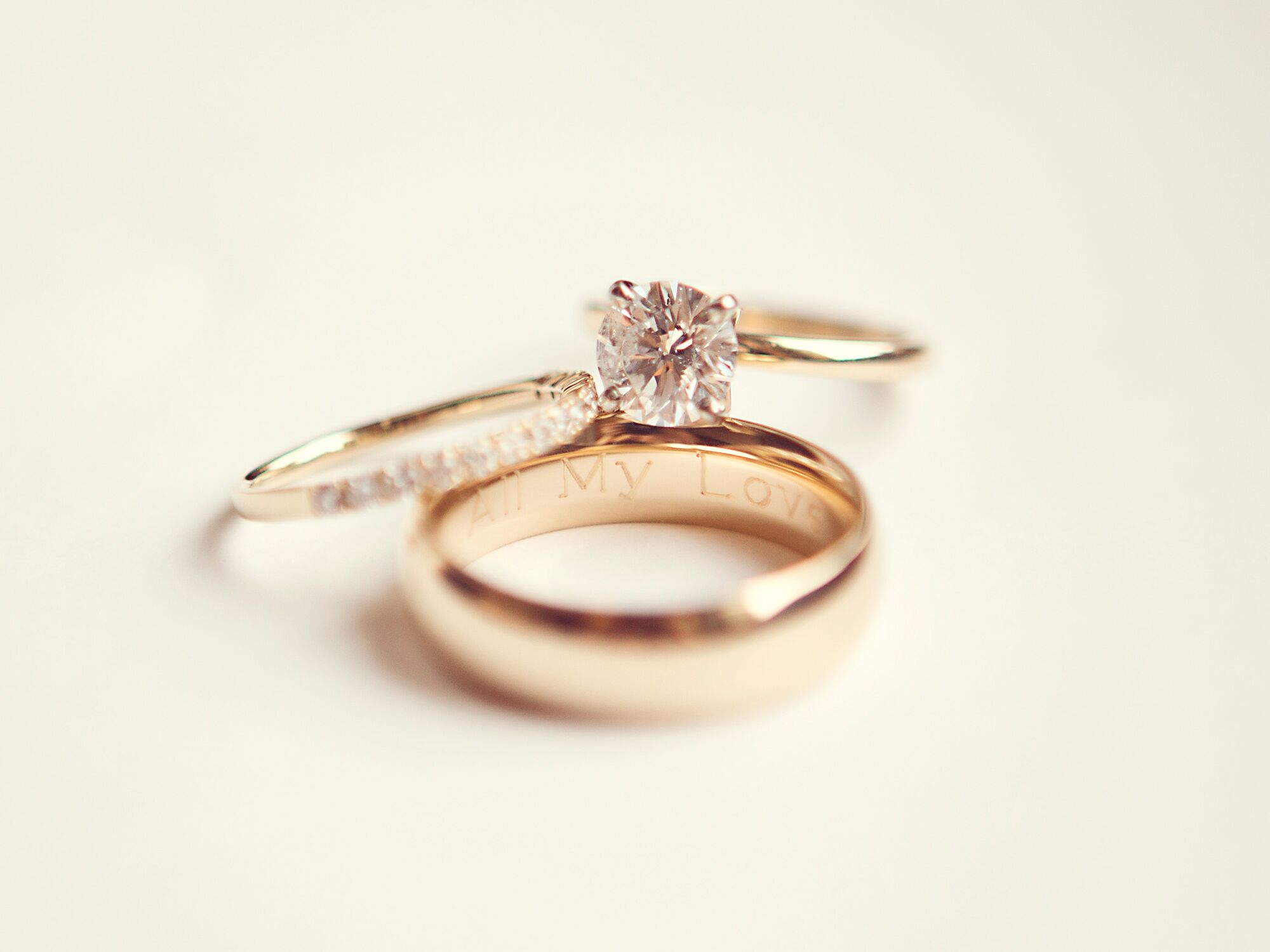 More Information about Wedding Rings in the Article Below.
http://apis.xogrp.com/media-api/images/28340838-1e5a-4f37-93c5-f0924665454b
http://niessing.com/wp-content/uploads/2017/04/Blüte-Header.jpg
https://i.pinimg.com/originals/2d/69/43/2d6943c4fc9b1445f96ef0f2a36f7780.jpg
https://media.blingjewelry.com/media/catalog/product/cache/1/image/9df78eab33525d08d6e5fb8d27136e95/s/i/silver-engagement-ring-set-cz_st-rset-30318875.jpg
http://apis.xogrp.com/media-api/images/28340838-1e5a-4f37-93c5-f0924665454b
https://www.feeljewels.com/